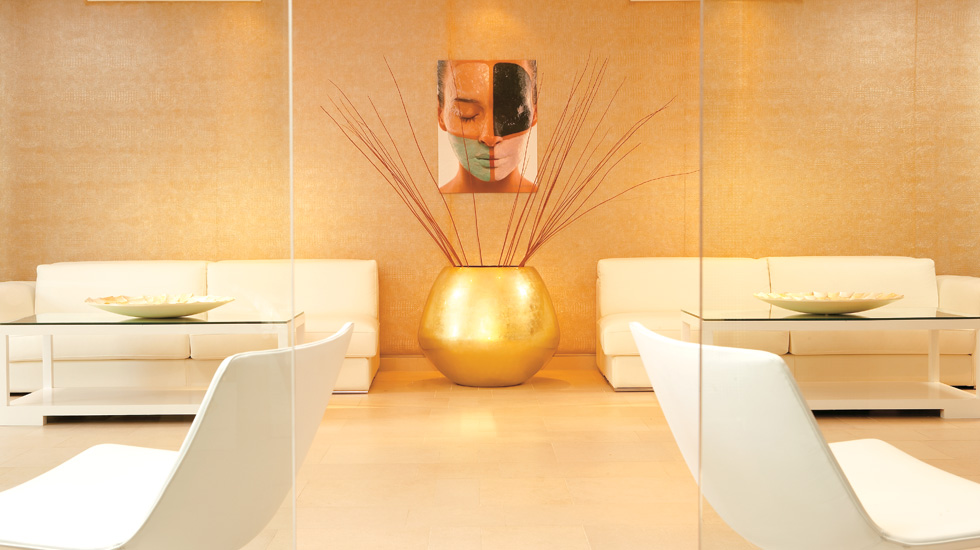 Spa Facial Treatments
DEEP CLEANSING FACIAL 90΄/115€
For a powerful skin recharge, this facial with a three-step treatment will bring back the glow to tired, dull and lifeless complexions. Suitable for all skin types, featuring a special scrub to remove dead surface cells and a mask to draw out impurities. Let the active ingredients of the mask work, whilst you enjoy a relaxing hand treatment by our therapist. Finally, a relaxing facial massage with essential oils revitalizes and nourishes, while a special moisturizing cream hydrates tissues, leaving skin soft and radiant. The sequence includes eye brow shape.


DEEP MOISTURISING CAVIAR THERAPY 90΄/130€
For skin in need of a super saturating moisture boost with immediate wonderful results improving the skin's texture, this thirst-quenching luxurious facial treatment is perfect. Spirulina, seaweed and caviar products are applied, feeding the skin with moisture loving actives that will bring back that healthy, dewy look to the face.


CAVIAR LIFT THERAPY 90΄/135€
This superior treatment provides immediate results in the fight against time, this exceptional treatment helps slow down the signs of premature ageing, reducing the appearance of fine lines and wrinkles on the face. A special capsule, rich in black caviar, is combined with a unique anti-ageing mask.
SPECIAL BLACK CAVIAR THERAPY 90΄/120€
A unique deep-cleansing treatment with Black Caviar. You'll see immediate results from this exclusive facial treatment for oily and problem skin. Includes application of a mask with Black Caviar to draw out impurities and cleanse skin below the surface. This deep moisturizing treatment leaves skin glowing and supple.


CAVIAR EYE THERAPY 30΄/60€
An advanced anti-ageing therapy to minimize fine lines and wrinkles around the eye contour, as well as the puffiness and the black circles. Eye mask combined with special capsules, rich in black caviar, helps to slow the signs of premature ageing, leaving the skin with a more youthful appearance.
Book Online
or Call +30 28310 55181
---
Gazebo Open-air Massage
For the most indulgent experience, the Elixir Spa therapists can arrange a massage in a beach Gazebo under the Cretan sky
.
---
♥ Love Potion
An absolutely sensual ritual for two to tantalize & delight! Share an unforgettable experience with your partner.
READ MORE
---
Hot Chocolate
A unique nourishing, stress-reducing body and facial treatment performed with chocolate to invigorate and revitalize you from head to toe. The substance of chocolate as an antidote for premature or accelerating ageing leaves your skin smooth and replenished.
---
Don't Miss...
♥
Elixir of Life
: Restoring body energy, balancing body aura, revitalizing & improving skin firmness.
READ MORE >
♥
Palace Massage
: Inspired by the grooming rituals of the Classical-era beauties. READ MORE >
---