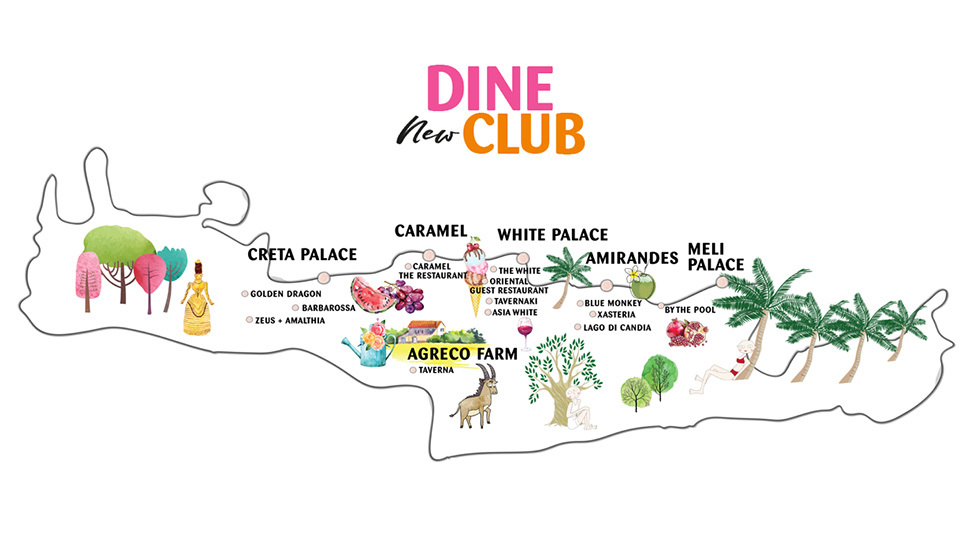 THE DINE CLUB HALF-BOARD PROGRAMME
Creta Palace introduces THE DINE CLUB a new experience on half board dining featuring a variety of selected venues round Crete & Free kids dining.

LUNCH (meal allowance in place of dinner)
PRINCESS ARIADNE ALL DAY BRASSERIE
set menu-no extra charge or a la carte with a 20€ credit allowance


DINNER
LABYRINTH ATRIUM RESTAURANT buffet-no extra charge or

GENEROUS CREDIT with credit allowance of 20 € per adult & 10 € per child, reservation required. No minimum stay applies

+ FREE ONE A LA CARTE DINNER
restaurant of guests' preference*, reservations required. Valid for minimum 7 nights stay and applicable to every consecutive 7 nights.
+ FREE ONE DINNER AT AGRECO FARM TAVERNA,
A culinary experience, offering diverse seasonal dishes based on the fruits of the land and the legendary nutritional Cretan cuisine, reservations required. Valid for minimum 7 nights stay and applicable once per stay.

* to choose amongst participating restaurants within the four Hotels in Crete, which provide a wide choice of a la carte dining possibilities


KIDS GO FREE
The DINE CLUB offers exclusively to children (till 11,99 years) an ALL IN-Dining experience as part of the Dine Club offer:
• Tasty Corner lunch buffet 12.30-14.00
• All Day healthy or favorite snacks at Grecoland
• Free kids dining at designated A la carte restaurants from Kids Dine Club menu.

For the Dine Club Half-Board programme supplement applies.

View Terms & Conditions
PARTICIPATING RESTAURANTS
---






You may select a three course signature menu with our compliments or choose a la carte options with credit allowance of 20€ per adult & 10€ per child.

DISCOVER MORE






You may select from the Dine Club menu with our compliments or choose a la carte options with credit allowance of 20€ per adult & 10€ per child.

DISCOVER MORE






You may select a la carte options with our compliments or with credit allowance of 20€ per adult & 10€ per child.

DISCOVER MORE







You may select from the Dine Club menu with our compliments or choose a la carte options with credit allowance of 20€ per adult & 10€ per child.

DISCOVER MORE






You may select from degustation menu with our compliments or with credit allowance of 20€ per adult & 10€ per child.

DISCOVER MORE






You may select from degustation menu with our compliments or with credit allowance of 20€ per adult & 10€ per child.

DISCOVER MORE





You may select a la carte options with our compliments or with credit allowance of 20€ per adult & 10€ per child.

DISCOVER MORE









You may select a vast choice of culinary options in our extensive buffet with credit allowance of 20€ per adult & 10€ per child.

DISCOVER MORE






You may select a la carte options with our compliments or with credit allowance of 20€ per adult & 10€ per child.

DISCOVER MORE







You may select a la carte options with our compliments or with credit allowance of 20€ per adult & 10€ per child.

DISCOVER MORE






You may select from 3 degustation menus with our compliments or with credit allowance of 20€ per adult & 10€ per child.

DISCOVER MORE






You may select a la carte options with our compliments or with credit allowance of 20€ per adult & 10€ per child.

DISCOVER MORE