Zeus + Amalthia Sky Bar Restaurant
A brand new restaurant which reaches for the stars. Chic rooftop bar & restaurant with eclectic finger food. Designer cocktails complement a contemporary approach to culinary classics.


Open: From 19.30 - 01.00
DRESS CODE:
Evening: Elegant casual attire. No beachwear or shorts in the evening. Gentlemen – long trousers and shirts with sleeves (short or long) in all restaurants & bars.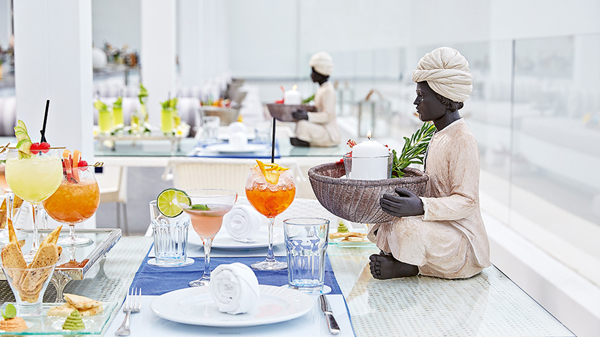 Forty Herbs - Sarantavotano
Cretans are famous for enjoying good health and longevity. A special herb tea, traditionally sipped at breakfast or before bed, may hold the key. Sarantavotano, literally "forty herbs," is a mix of forty endemic aromatic plants with a range of healing or tonic properties. The forty herbs in sarantavotano are not chosen at random but selected to promote health by fortifying the immune system as well as the body's circulatory, digestive, and respiratory systems. Malotira, rose, jasmine, wild quince, lemon balm, orange, spearmint, and lavender impart a delicate aroma that conjures the sweet-smelling Cretan countryside on a warm spring morning.
NOTE:
Please inform the hotel staff in advance of any allergies or intolerances you may have. Our menu might contain traces of allergenic substances.
Book Online
or Call +30 28310 55181
Seaside Private Dining
Listen to the waves...
Choose from an extensive menu, day or night, from a light bite to a romantic dinner under the stars and by the
beach
.
READ MORE
---
Special Dining
...the choice is only limited by your imagination.
READ MORE
---
The Products
Agreco Farm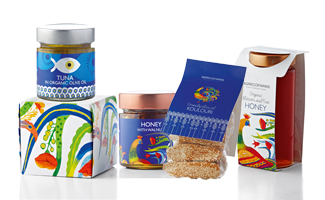 Discover this small continent's gastronomic secrets: long-fin white tuna caught off the coast of Rethymno and packed in organic olive oil; organic blossom honey and organic pine honey; Cretan melokarydo (honey & walnuts) for longevity and good health; ladokoulouro, sesame-encrusted cookies made with olive oil - the typical Cretan biscuit.
Available at hotel's Agreco corner.
---