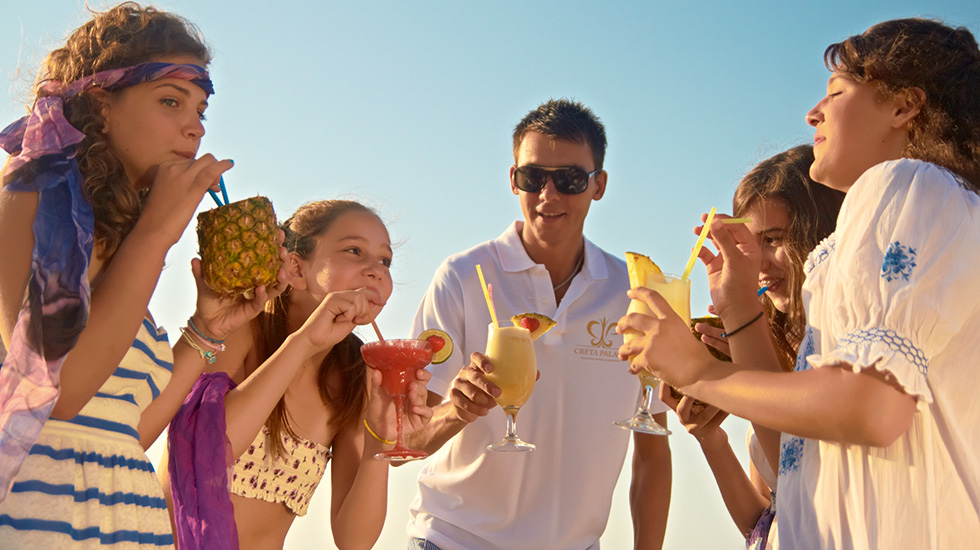 Tasty Corner - free kids' dining
FROM MORNING TO EVENING, MINI BUFFETS OFFER A CONSTANT SUPPLY OF FRESH, TEMPTING FOOD & DRINKS EXCLUSIVELY FOR KIDS.
FROM 11:00 TO 17:00 KIDS (FROM 3 ‐ 12 YEARS OLD) CAN EAT AS MUCH, AND AS OFTEN, AS THEY LIKE AND IT'S ALL FREE.
KIDS LOVE THE CHOICE AND FREEDOM WHILST PARENTS WILL BE EVEN HAPPIER TO KNOW THAT ALL MENUS,
CREATED BY THE GRECOTEL CHEFS, HAVE BEEN CHECKED BY A QUALIFIED DIETICIAN.




AT TASTY CORNER KIDS WILL ENJOY:

All Day:
• Fresh fruit, cakes and biscuits, ice cream, yoghurt & snacks
• Fruit juices; milk; water; iced tea or chocolate

Lunch 12:30-14:00 (menu changes daily)
• Hot dishes include: Soups, assorted vegetables & potatoes, variety
of meats & poultry, fish, pizza, pasta, homemade burgers.
• Cold dishes include: sun‐kissed salads, desserts, ice creams,
yoghurt, fresh fruit, cheese

Dinner 18:30-21:00 :
Children eat with parents. Kids' menus are available at a la carte restaurants.

In-Room Dining:
We all know that kids can get peckish anytime of day, so feel free to pick up the phone to order milk & cookies, tasty omelettes or a homemade beefburger any time of the day or night.

The menus may vary according to season and number of children.




BY GRECOLAND

Designed in conjunction by our chefs & dietician to tempt all juniors whilst making sure they get all the nutrients they need for an active holiday. Special children menus are available in a la carte restaurants.

---





BABY FOOD

The resort stocks international brands of baby food.
Our staff is happy to lend a hand with warming
baby bottles or baby food.

---





LITTLE CHEFS

NEW GENERATION OF CRETAN & GREEK CUISINE

Pure, simple ingredients make the best food in the most
space-age kitchen in Greece! Kids can join the Grecoland cookery lessons
where they learn simple recipes based on the healthy Cretan Diet
are presented by gourmet experts, like a game.

NOTE:
Please inform the hotel staff in advance of any allergies or intolerances you may have. Our menu might contain traces of allergenic substances.
---