Kids at Creta Palace luxury family hotel Crete
Kids ♥
Creta Palace

Amazing Grecoland kids' club, Discovery Adventure activities, children's pool and waterslides,sandy beach, lawns and gardens
and kid-friendly staff. What else to ask for?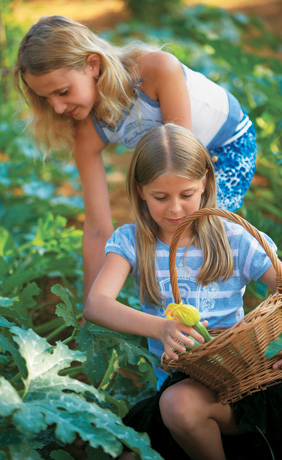 Grecoland ♥

The Grecoland Club is a crossroad between nature & the future. Outside is the organic hotel garden and inside the latest rising-sphere mini kitchen. Brightly coloured benches and tables, costumes, crafts, activities and competitions create a magical holiday experience.
Sample activities at Grecoland: Arts & Crafts: Fun from Junk! Table games, Wet-Wet-Wet activities, Team & Group Games, Theme days, Greek dancing, Children's & Family Shows, Family Disco, Environmental Day - Blue Environmental Day – Green.
Grecoland: Children under 3 are welcome to use the Grecoland facilities, but must be supervised at all times by a parent or guardian.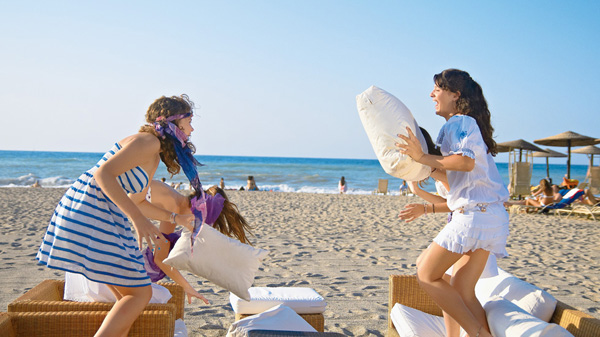 Grecobaby 0-3 yrs

We have the solution to travelling with babies & tots! The new GrecoBaby has baby equipment including: cots; high chairs; trainer steps; potties; buggies; changing mats; training seats; bottle warmers; baby bathtubs; bouncy chairs; listening devices (some items incur nominal charge). Requests for GrecoBaby equipment should be made directly to the hotel before arrival al.

Click here to download the Grecobaby order form

Grecokids 3-6 yrs

GrecoKids is all about having fun in combination with the Greek culture, its history and its natural environment. Six days a week, GrecoKids can enjoy arts & crafts, water activities, team games, theme events, environmental days, treasure hunts & gardening fun – all at Grecoland.


Grecojuniors 7-12 yrs

These junior guests love active holidays and that's just what they get! From the new Discovery Adventures to parties & discos, there is something to occupy them from morning to night. Grecoland organises sports, team games, water activities, creative crafts and whilst playing they are learning about their planet.

Grecoteens 13+yrs

From morning to night, there is plenty to keep teens occupied. From beach volleyball, watersports, tournaments, hip hop dancing, Greek dancing, safe internet surfing, parties and dances.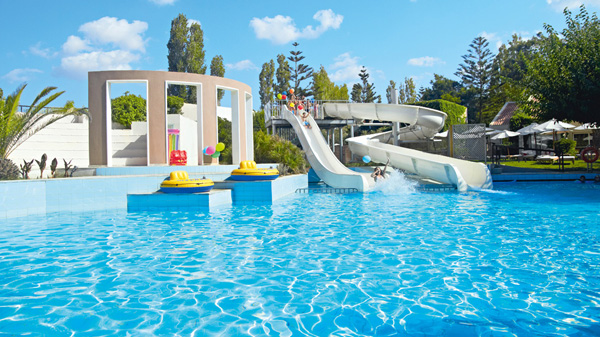 Junior Facilities


♥ Child-friendly Blue Flag beach
♥ Paddling & children's pools
♥ Waterslides
♥ Playground
♥ Spacious lawns & gardens
♥ Family accommodation
♥
Baby sitting in guestroom
♥ Infant food (to order in restaurants or at the hotel shops)
♥ High chairs in all restaurants
♥ Grecoland parties & birthday celebrations
♥ Tasty Corner – all day drinks & food
♥ Kids menus in a la carte restaurants
♥ Shows & disco for all the Family
♥ Paediatrician (doctor) on call
♥ Hotel stores have a range of baby products, such as: Nappies, baby wipes and baby powder, sun care, toys & games, infant food, beach shoes & clothes, bathroom accessories.
♥ DVDs (including cartoons) at Grecoland
♥ Parents-day-off Weekly opportunity for parents to have a romantic evening whilst kids are entertained at Grecoland
♥ Sports activities including tennis, cycling, volleyball, table tennis, billiards, beach soccer, watersports etc.
Book Online
or Call +30 28310 55181
---
FREE KIDS DINING
Tasty Corner
From morning to evening, mini buffets offer a constant supply of fresh, tempting food and drinks exclusively for kids
.
READ MORE
---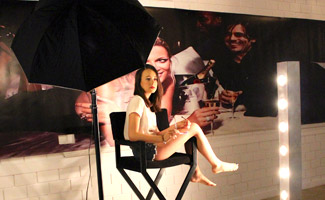 GRECOTEL BE A MODEL for a day
Be a model or just be fabulous! Younger guests are introduced to the world of beauty and fashion. Treat your kids with a unique holiday experience, where they can find their inner star and make it shine!
READ MORE
---
Lovely Beach & Pools
Child-friendly sandy beach with shallow waters awarded the Blue Flag and the waterslides ideally located
next to family guestrooms, suites and maisonettes
are an absolute highlight!
---

Kids Activities at Creta Palace

Creta Palace Golf Academy

Water Sports (ages 8 and above)

Tennis (age 7 and above)

Mountain Biking (ages 8 and above)

Diving (ages 8 and above)


---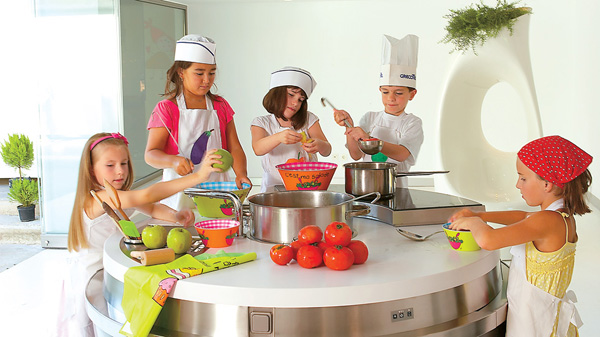 Little Chefs
Free kids' cooking classes
Pure, simple ingredients make the best food in the most space-age kitchen in Greece! Kids can join the Grecoland cookery lessons where they learn simple recipes based on the healthy Cretan Diet.
---
Family to-Dos
Play "Farmer for the day" at Agreco Farm. The Farm Experience includes a visit to the mini zoo, while junior farmers (aged 6-12) can enjoy fun-filled farm activities. The Cretan feast that follows is a definite highlight of your stay.
For more information please contact the front desk
---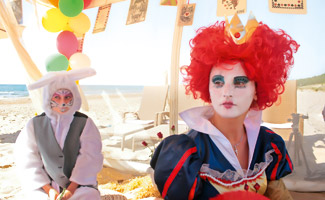 Fairytale Parties by Grecoland
Balloons, games, cake & candles, music all make for a great birthday party! Everything is organized from invitations, yummy food to entertainment for a great kids' celebration
!
---
Awards - Recognitions 2014

---