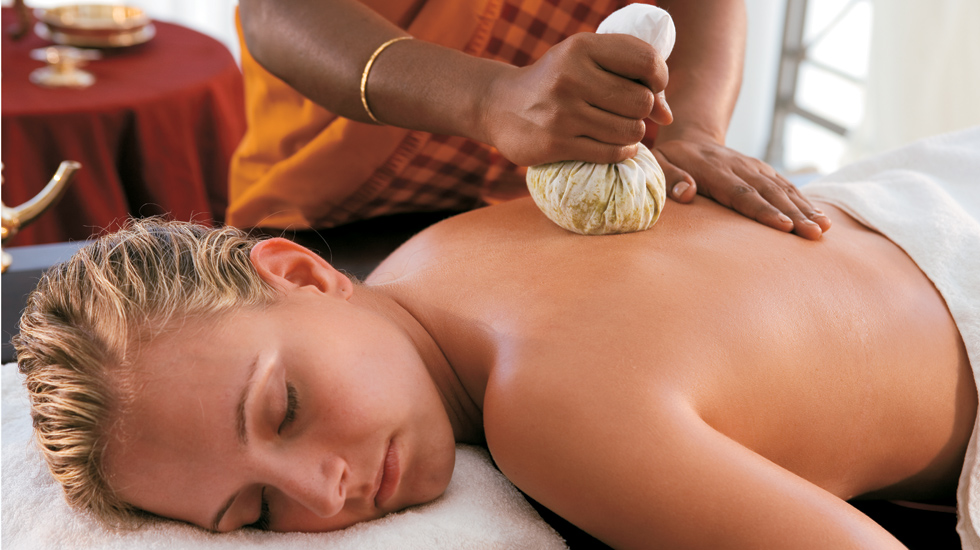 Massage & Body Treatments
Just as an axis of wheel is made strong and durable by applying grease around it, the human body becomes strong and lubricated by oil application. Based upon individual body constitution special oils are used, which will stimulate the lymphatic system. This assists in the flow of nutrients in body and removes toxins from the cells. It prevents aging and has a rejuvenating effect. Induces sleep, improves complexion and strength and prolongs life. As a proverb says "The money that you pay to the physician may as well be paid to the oilman."
ABHYANGAM 60΄ /70€
This is the basic Ayurveda massage. Experts massage lukewarm Ayurvedic oil on the head and body. Enhances proper blood circulation and relaxes mind.


UZHICHIL 60΄ /90€
This is done by applying pressure on the vital points (marma), muscles. The masseur applies pressure with the fingers, thumb or palm at certain points having high concentration of life energy. This massage is superb for overworked, tired, stressed muscles to help stretch the body and alleviate fatigue.

ELAKKIZHI 75΄ /130€
One of the most relaxing and refreshing massages that you can enjoy. This is a massage with warm roasted leaf bags after 40 minutes of basic massage from head to toe with Ayurvedic oils / aromatic oils. This is very good for relieving spasm and stiffness of muscles, lubricating the joints, strengthen the spinal muscles and relieves joint pain especially backache. Enhances peripheral blood circulation, cleanses the channels of circulation and expels toxins through the sweat.

NAVARAKKIZHI 75΄ /160€
Massage with Ayurvedic oils for the whole body is done in the first phase of this treatment. This is followed by massage with warm rice (medicinal rice, Navara) bags dipped in milk and a herbal decoction. Oil massage follows as the next phase. This massage nourishes tissues, softens the skin, enhances complexion, strengthens body muscles, cures the stiffness of the joints, and improves digestive power.

SIRODHARA 75΄ /115€
This is a unique massage of Kerala in which a steady stream of medicated oil is poured on the forehead in a peculiar pattern. This is done after 30 minutes of basic massage for whole body. It is mainly done for relaxing the mind. Very effective for mental relaxation, sleep disturbance, head ache, hair problems and skin diseases.


UDVARTHANAM 75΄ /105€
Massage with special herbal powder after 40 minutes of oil massage. This is done like a scrub for exfoliation; break cellulite; deplete the fat, strengthens the muscles. Removes impurities, dead skin cells and stimulate circulation. This prepares the body for further treatments.

SPINE CARE 60'/100€
Spine massage starts with an application of warm herbal poultice after anointing oil. Luke warm oil is allowed to stay on the low back / upper back or neck for 30 minutes in a dam made with dough. This therapy relieves occupational tension buildups, stiffness, spasm, pains and aches. This is very effective for sciatic pains and spondylosis.



SIGNATURE MASSAGES

Anti-Voyage Fatigue Duration: 90΄ /200€
This massage is designed to relieve the stress and strain due to long journeys. This is helpful to relieve the muscle pains and aches, swelling on the feet, headache, sleep disturbance, constipation and other discomforts of jetlag.

Scrub n' Trim: 90΄ /200€
This massage is designed to reduce weight. It includes an herbal powder scrub after an exotic and vaso-dilating massage with warm herbal bags in oil / decoction. Repeated sessions help in over weight.
Book Online
or Call +30 28310 55181
---
Gazebo Open-air Massage
For the most indulgent experience, the Elixir Spa therapists can arrange a massage in a beach Gazebo under the Cretan sky
.
---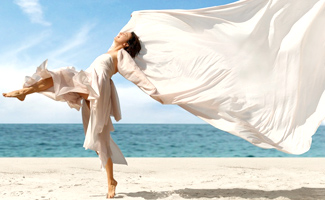 Must Try...
Elixir of Life
Restoring body energy, balancing body aura, revitalizing & improving skin firmness
.
---
♥ Love Potion
An absolutely sensual ritual for two to tantalize & delight! Share an unforgettable experience with your partner.
READ MORE
---